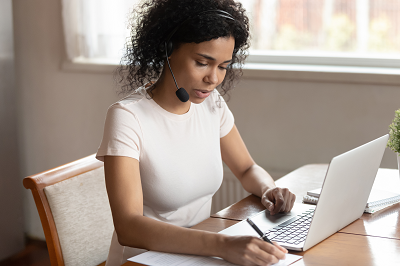 At EDC4IT we do not believe in ignoring the realities of life. The past month has brought most of the world a new reality that we all need to face. This reality is COVID-19, or Coronavirus.
Coronavirus has led to a number of countries declaring a "lockdown" status, with international travel, and even domestic travel being limited to only the most necessary cases.
Of course, we understand these measures and want to comply with them fully. We support the advice that citizens should remain in their homes to slow the spread of Covid-19. This will allow the authorities more time to treat all those who need medical attention, without adding to the number, but it will also give labs more time to develop a vaccine.
While EDC4IT fully supports the measures of self-isolation, social distancing, the ban on international travel and unnecessary domestic travel, we acknowledge the impact these have on our business, but we also see how we can continue to serve our clients by using our existing resources.
As an international IT training company specialising in open source technologies, up until now we relied upon travel for our instructors to deliver courses to clients on site, at their offices around the world. Our open enrolment offering also depended upon international travel so we could roll out our expert knowledge to classrooms of major cities across Europe, the Middle East, and Africa.
The ban on travel means that this is impossible, for now at least. So, what does any genuinely versatile company do at a time like this? It takes stock of its in house resources and makes the best of them.
While our main operations did rely upon instructors travelling to deliver on site training, 16% of our business was already being conducted as instructor led online options using course materials that were tailored to fit the online class format like a glove, but still with a real instructor leading the classes.
As of writing this, 90% of our curriculum is available for online instructor led courses. As was always possible with our onsite courses, we can work with you to tailor the course you would like, to more accurately reflect the needs of your team.
Our onsite instructors will be transferring their skills and knowledge, delivering online courses, leading online classes, interacting with students in real time to give your team the best of an onsite training experience, with all the convenience that a solid and dependable online infrastructure can offer.
When it comes to instructor led online training, EDC4IT is not a newcomer. We have been doing exactly this for years, but it was not a core option. The fact that we are immediately ready to change with circumstances is due to our versatility and willingness to go the extra mile for our clients, always keeping instructor led online as an option for all our courses.
Experienced onsite instructors bringing their rich depth of subject knowledge to real time instructor led online courses.
The same instructors means your team will still benefit from the same deep reservoir of knowledge, skills and experience that your team would have had with an onsite course.
Power and solid delivery systems that have been dependable throughout our history of instructor led online courses.
All our most popular courses are adapted for the instructor led online environment and are already available for you to book.
Tailor your instructor led courses just as you would for an onsite course.
Use our rich expertise to give your team a head start and get ahead of the rest.
While our courses are already available for you to book, our website may take a little longer to reflect this. We invite you to contact us directly to discuss your training project.
No matter the circumstances, technology doesn't stop progressing, so neither should your team.