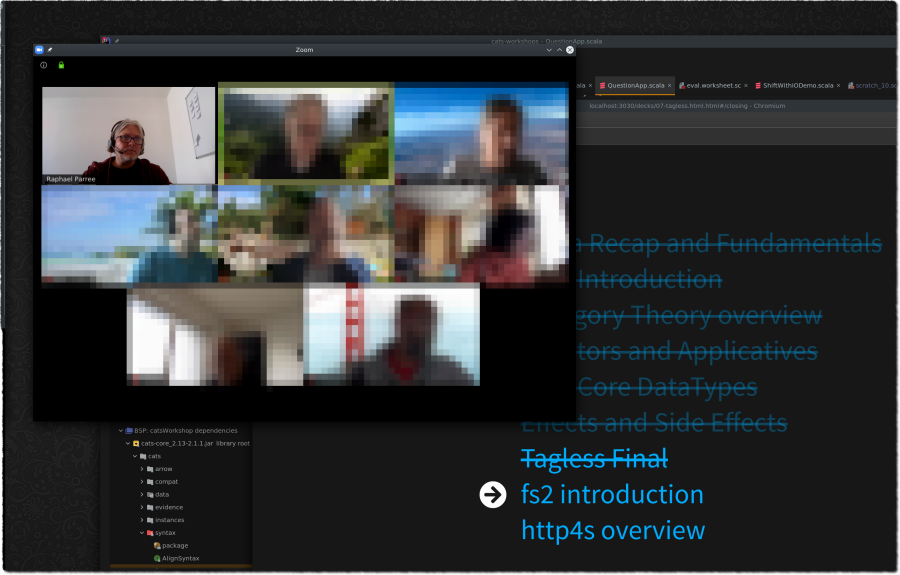 As covered in our previous blog post, EDC4IT has used the unfortunate circumstances that COVID-19 has imposed upon the world as an opportunity to lean on one of our more underused strengths to continue delivering high quality courses to our clients.
As you already know, EDC4IT has specialised in offering clients around the world expert level onsite training on modern, established and emerging open source technologies such as Scala, JavaScript, Docker, Kubernetes, and React, to name but a few from our extensive catalogue.
Travel restrictions mean that we have not been able to offer onsite training. With no clear idea of how long it will be before our expert instructors will once more be able to undertake international travel to our clients, we decided to fall back on our instructor-led online variations of our popular courses in order to keep up with the need for training.
The world of technology does not stop. Many businesses around the world bravely choose to continue investing in training since they recognise that the efficiency that the latest technology brings is the key to surviving the financial fallout from COVID-19. To weather the storm businesses are turning to online training, and no other training company is as well placed as EDC4IT to deliver the kind of high end courses that businesses deserve. After all, if your business is investing in the latest technology, there is no point in engaging the services of a sub-par training company.
At EDC4IT our online courses are always instructor led. That means that our clients receive a course that is as close as possible to an onsite experience where our instructor visits their premises to train the team in person. When it comes to most other training companies and their online course offerings, they simply offer a one-size-fits-all course with no real-time input and guidance from an actual instructor. With an EDC4IT online course your team will benefit from real-time guidance from the same expert instructor who would have joined your team in person at your premises.
Here is how we deliver an outstanding instructor-led online training experience that meets and exceeds the expectations of our clients.
Communications Platforms
We have always offered online instructor-led courses. So, unlike other training companies that are only just getting started with online training, we have a solid infrastructure in place and our courses are already adapted and primed for the online training experience.
The Big Blue Button video conferencing platform is a part of our infrastructure, but until they support the latest version of Ubuntu we are using Zoom. Over the past few months Zoom has become a household name as executives around the world have adopted it for video conferencing. This sudden boom in popularity is testament to Zoom's stability, functionality and versatility. What really sets it apart for us is how well it adjusts for latency on the network to compensate for network weaknesses. Zoom offers very good security with password protection that has always kept our sessions secure.
We use a virtual whiteboard to illustrate concepts. Virtual whiteboards also offer the opportunity for greater collaborative support. While the platforms we use do offer superb video and audio quality they do also offer methods of non-verbal communication which is useful in various ways; to alert the instructor to an issue; to request a break, etc. The platform, available on Mac, Linux and Windows, offers group chat and screen sharing facilities.
Alongside the videoconferencing communication platform we use Nextcloud to share documents and support materials.
Labs & Slides
To support the learning experience we offer written labs that are available to clients once they have the code, username and password to download them. Additionally the labs and slides can be made available in PDF form if students want to redo them.
Slides are used alongside the lecture, but only as background support. In each slide there are never more than 10 words used to emphasise the concept that the instructor is imparting as we prefer for our courses to remain highly interactive.
Our courseware is original and created in-house, meaning that we can easily keep it up to date and tailor a course to suit specific needs and address topics that are relevant to your team and project. This includes labs that have a duration of 20 to 90 minutes.
These labs are unique and comprehensive, going way above and beyond that which other training companies provide. Again, since we create them ourselves, we can easily adjust the difficulty as necessary. Hints can also be applied to help students to complete the labs.
In our blog post next week we will be discussing our approach to virtual machines, the extra time we allow students on our online courses, as well as our focus on projects as opposed to certification.
Be sure to follow us on our social media feeds below to catch all our updates and see the next blog. You can talk to us about a course for your team by contacting us directly. Our expert instructors are ready to tailor our courses to fit your needs.