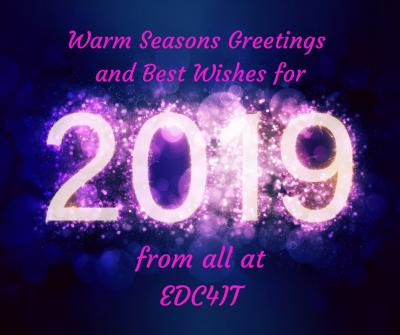 First of all I would like to extend my hearty and sincere hopes that everyone will enjoy a wonderful festive period this December with much eating, drinking and merrymaking. It is easy to become swept up in the daily processes of work and forget about the little joys that should brighten all our lives. The festive period is a timely reminder that we need to make time to focus on things other than our work.
However, with the success that EDC4IT has been pursuing this year, in open source technologies, it has indeed been difficult to focus on anything other than that. It has been fascinating to watch how 2018 has developed for our company, as there has been much to inspire me.
Not only have we achieved good organic growth, that has expanded our reach and clientbase, but there have been many other positives to speak of. We have continued to offer our expert knowledge, in English and French, diligence and attention to detail, which has resulted in us not only impressing new clients, but also growing the business we have with existing accounts.
Our continued growth has necessitated the hiring of new staff who have all proved themselves to be very bright, dynamic and proactive. With their assistance in 2019 we are sure to add to our success. 2018 also brought us a new partnership in the form of Jumping Bean. We are looking forward to a long and productive relationship that will offer us opportunities to bring our top notch training, and highly respected EDC4IT work ethic, to bear upon projects in Africa and the Middle East.
With so much going on I am confident that 2019 will be a year of success that will be hard to top in 2020. Yes, I'm already looking further head, because that's what we do at EDC4IT.
I wish you all a very merry Christmas, a happy new year and most joyous seasons greetings to everyone in our EDC4IT family.
Jorden de Bouvé Managing Director.