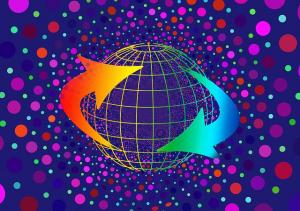 The spread of open source means that the companies' use of proprietary software has changed. Since open source has become increasingly in-demand for cloud, mobile and Internet of Things devices, elements of open source code is now present in roughly 90% of all software being used or developed.
While most consumers may think they are still clinging to their proprietary software from the likes of Microsoft and Adobe they are largely unaware of the extent to which open source software affects their lives. From smartphones to banking systems open source code impacts almost every person who uses technology.
What these everyday consumers also don't necessarily realise is that open source is destroying the old way of doing things by innovating far quicker than their commercial counterparts.
In a lot of ways it is the giant software companies like Microsoft and Adobe that have pushed to bring us all to doing our everyday jobs on a computer rather than traditional means. The next step was to have those tasks accessible via the internet. Now we are all computing via the cloud and the need to innovate at speed outstrips the ability of these companies to create stable commercial solutions that satisfy every need.
That's where open source comes in. Where a new software development model has become necessary GNU/Linux has stepped up to stimulate software design.
Instead of waiting for a company to come up with a solution for a particular issue developers are increasingly taking it upon themselves to come up with their own enhancements.
It is common for a piece of code to becomes so useful that it is used for a range of different systems. However, it is not uncommon for vulnerabilities to be found in very useful code that could make the system it powers a target for hackers. How can we avoid this? Open source enthusiasts are known as being part of a very transparent community that is keen to keep other informed of updates, advancements and possible problems - including vulnerabilities. In fact, most of the time, the open source community is better at documenting such things than their commercial counterparts.
If you're receiving third-party firmware you can make sure you are it incorporates the latest, most secure open source coded components by consulting software supply chain documentation. Go the extra mile - and commit yourself to best practices - by conducting a pure binary scan.
At EDC4IT we're experts in the field of open source software, we know our field inside out and you can be confident about placing your faith in us to train you or your team. Check out our variety of courses for both admins and developers and don't hesitate to get in touch about a bespoke course to suit your exact needs.